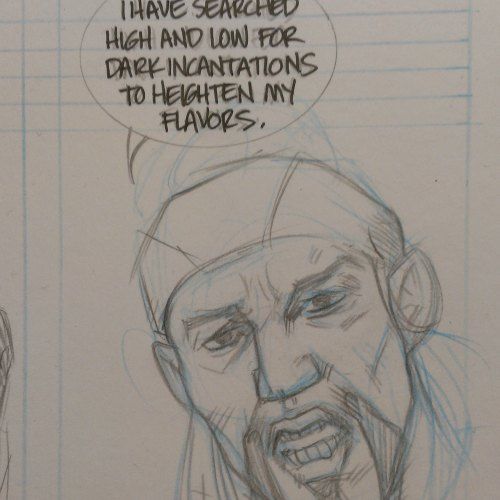 An in-progress panel from an upcoming comic story.
I've been trying to track down this quote that sums up why I produce the artwork that I do, in the manner I do.  According to the
internets
, this is from the introduction to "Escapo," a long out-of-print graphic novel by Paul Pope.  He wrote:
"Handwriting is the closest thing to cartooning, I think.  The best cartooning is like a very elaborate, highly personal calligraphy.  The best comics are like love letters, emotional, personal notes written to an intimate other.  That's what I want.  For my comics to be like love letters."
Even when I was producing comics consistently, a decade ago, it was completely anachronistic to hand-letter one's comics.  "Escapo" came out in the late '90s, and it's a brilliant piece of work.  Of course, the story resonated with me, but so did Pope's assertion that comics should be personal.  I've interpreted that to mean that the ideal is to create work that no one else can, in a manner that no one else can.  Since comics is a visual medium, doing things in a distinct manner should extend all the way to the lettering, but rarely does.
It might be quicker to digitally letter my stories, it might be more on-model.  My own lettering work doesn't have the professional polish that a top-tier letterer might be able to provide.  But dammit, when you're looking at one of my pages of artwork, I want it to look like something that only I can provide, all the way down to the smallest details.  I don't want someone else's handwriting (or worse, someone else's font) to be transmitting words into your head.  My words, my pictures, my handwriting, my hands.
When you read an issue of "Usagi Yojimbo," you're getting Stan Sakai's handwriting; when you read "Sin City," you're getting Frank Miller's.  There are even examples of letterers pairing with artists (like Howard Chaykin and Ken Bruzenak, or Walter Simonson and John Workman), where seeing anyone else's lettering on those artists' pages is jarring and distracting.  That's what I'm aiming for.  That's what using a computer and some commonly-used, impersonal font takes away.  Would you dictate a love letter, for someone else to transcribe, and give that to the love of your life?  Would you pour out your heart into a word processing program, would that get across what you were feeling?
c.