Reverend Dave Johnson
is a very well-known cartoonist, but mostly known for his award-winning cover illustrations at this point (on series like DC/Vertigo's "100 Bullets") or for being a co-founder of the Drink and Draw Social Club. Before that, like every other cartoonist, he sometimes had to draw the images in between the covers, too! He's also responsible for one of my favorite comics panels ever (which is the last image in this post). I decided to go back into my collection and find more similarly-themed panels, ones that show his mastery of the Interior Establishing Shot.
The first batch of images are from "Chain Gang War," written by John Wagner, penciled by Dave Johnson, and inked by John Dell, published by DC Comics in 1993 and 1994.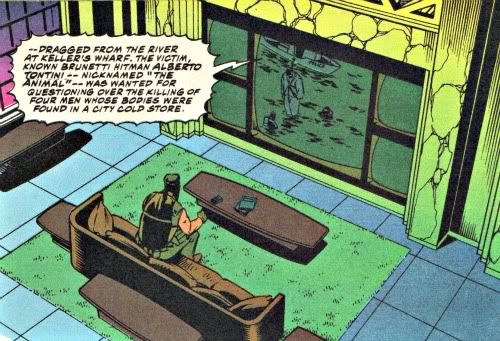 Aside from the bizarre color scheme of this series (and I mean the whole series), this is a solid interior establishing shot. We're clearly not looking at an average studio apartment here.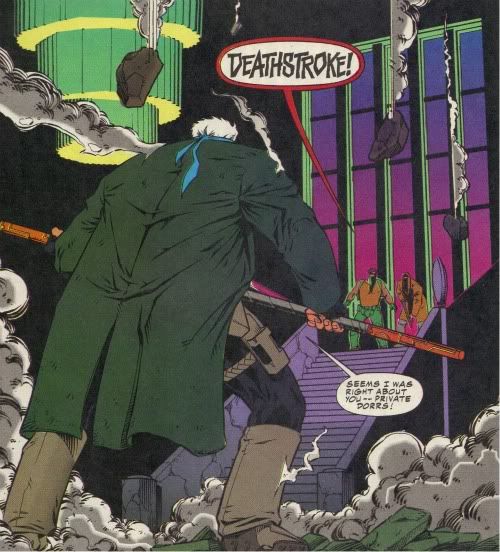 Now we're starting to get down to business. Here, Deathstroke is clearly getting ready to do battle, but almost as importantly, we get a good sense of the setting this battle is going to take place in.

This is a cool shot also, but requires some explaining. There's a mansion that a villain has built, but nothing is level. It's intentionally so, since the villain sports a twisted-up face, his surroundings must reflect that. Here, there's a sense of the Fun House-style design.
But honestly, the reason I wanted to take do this post wasn't "Chain Gang War." Dave Johnson penciled and inked a pair of "SuperPatriot" mini-series in the mid-90's that are still some of my favorite comics of all time. I don't believe that there's ever been a SuperPatriot collection of any kind, and while there could be a million reasons for that, it's surely not a quality issue.
The first "SuperPatriot" mini-series was scripted by Erik Larsen (the character is one of his creations also), plotted by Keith Giffen, drawn by Dave Johnson, and lettered by Chris Eliopoulos (which will become more important in the second mini-series), and was published by Image Comics in 1993.
So let's check out some Interior Establishing Shots, shall we?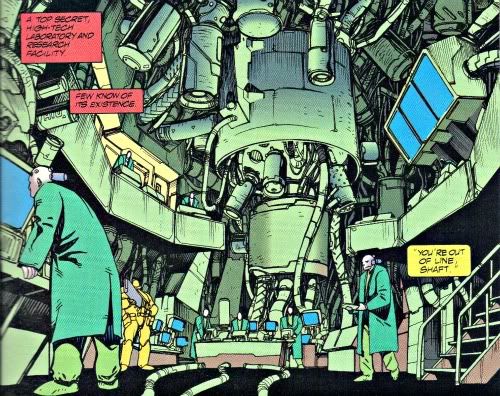 That's a damned great lab right there. Also, with Johnson inking himself on this series, the art is less "designy," and you can see the Masamune Shirow influence shining through ("Appleseed," in particular. Yes Virginia, people were reading manga earlier than just five years ago). But the part that I love is that there's a sense of scale in this drawing that few other artists seem to capture.
Here's a full-page, so that you can get a taste of how fantastic Johnson's reveals are: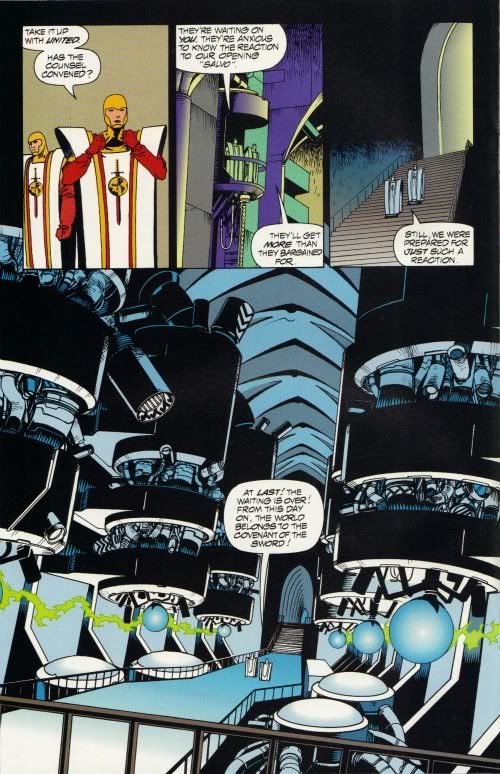 Aside from being a fantastic page, and aside from nailing a look that could have come straight out of a great 1970's sci-fi film (like "Logan's Run," for instance), this is another page that really gives a reader a real sense of size and setting. But, of course, not before building your anticipation through the top tier of panels.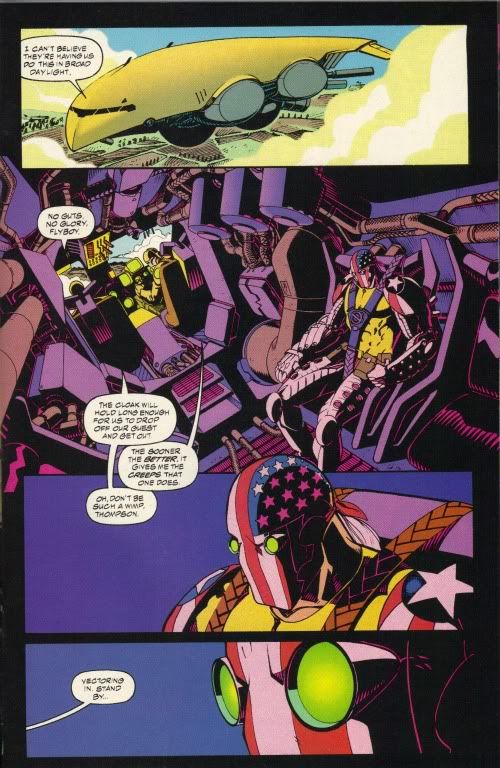 Here's another full-page that illustrates one of the "tricks" that Johnson often uses during his action sequences, even though this is a "quiet scene." The Interior Establishing Shot sets the plate so well that it becomes unnecessary to repeat it. Johnson's skill at this sort of shot means that he can focus other panels entirely on figures. One of the raps on many 90's superhero artists (and on Image books in particular) was a persistent laziness in regards to the background work in many panels. To my eye, that's never an issue with Johnson's work (although he certainly and frequently does action panels with no background drawing at all) because of his extreme skill at the basic storytelling technique of establishing a specific environment. Once the table's been set, you don't need to keep putting forks next to each plate every time someone takes a bite.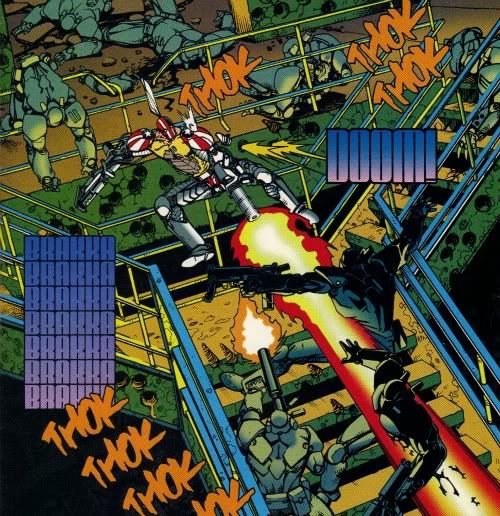 Another development in this series: the incorporation of lettering effects similar to the work that Howard Chaykin was doing in "American Flagg" with letterer Ken Bruzenak, or that Walter Simonson did in his "The Mighty Thor" run with letterer John Workman, both during the 1980's. This is a great example both of the incorporation of sound effects and the use of an establishing shot in the middle of an action sequence to indicate a change of setting. Again, every panel doesn't need every inch filled, so long as you let people know when your setting has changed.
The second SuperPatriot mini-series is even more fantastic than the first. This time around, the comics are scripted by Tom & Mary Bierbaum, plotted by Keith Giffen, drawn by Dave Johnson, and lettered by Chris Eliopoulos. It was also published by Image Comics, in 1995.
Much of this series is set in Japan, and virtually all of the action is outdoors. There are points where the visual density begins to approach that of Geof Darrow's work, which is saying quite a bit. But I'm trying to stay on point here, and keep focused on the Interior Establishing Shots. There are only a couple in this series, but they're doozies.
On this full-page splash, there's plenty to feast your eyes on. Even the pipes in the ceiling are worth taking a few seconds to untangle.
But for me, the real money shot comes in the fourth issue of the series, one of the few times that I've actually gasped at a page or spread in a comic book: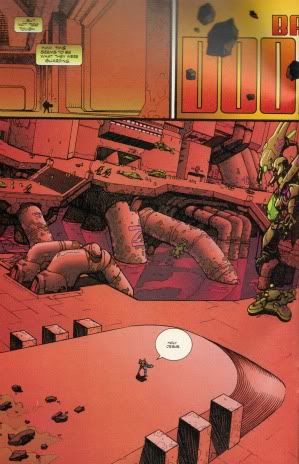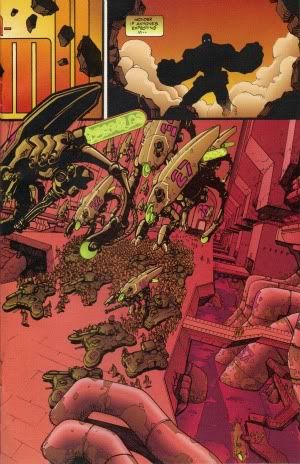 The scale and scope of this illustration is breath-taking. Even more so when you see it at the proper size, inside of an actual comic book. The little version is nice, but the full version is worth at least tracking down this individual issue for.
Part of the reason why I suspect that many artists don't do a great job of indicating scale is that comics are usually a standard size, and also that it's a lot easier to draw a pair of people fighting with each other at maximum size than it is to pull off something like Dave Johnson's illustration here. But this really has it all, from the Simonson/Workman sound effects, to the insectoid battle armor, to a really interesting building design, and all combined in a very dramatic drawing. I can think of a million cartoonists who could pull off a fighting scene as the dramatic conclusion to a story, but almost none who could do the reverse. It's almost a "Planet of the Apes" ending, where the character's realization of his situation is more important than who it's happening to.
If you stumble across any of the "SuperPatriot" issues, they're worth picking up. I love Johnson's cover work, but comics like this make me miss his sequential work.
c.
DISCLAIMER: all images belong to whomever they belong to (likely DC Comics for "Chain Gang War," and Erik Larsen for "SuperPatriot"). I make no claim to ownership, but present smallish scans (and no complete stories) for academic purposes.