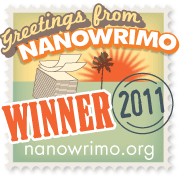 I did it! 50,000 words written in one month, the first draft of a novel. What is going all the way through a
NaNoWriMo
like?
Let me give you a quick background on my writing, so that you know where I'm coming from here. Despite the fact that I spend most of my time creating art these days, my degree is in creative writing (from the University of Washington, class of 1999). The bulk of the work I did back then were short stories, although I also wrote most of the comic books that I have drawn as well, and spent a little over a year writing record reviews for the school newspaper. Since that point, I have written a handful of screenplays, but didn't really put forth the effort needed to sell any of them. Screenplays are probably the most similar in terms of scope and effort to a novel. I co-wrote a couple, and wrote a couple on my own.
Generally speaking, it would take a number of months to come up with a usable first draft of a screenplay for me. Part of that is one of the chief pitfalls of collaboration: you've always got to convince two people to sit down and work, and not just one. That works great if your partner is motivated and focused, but if either of you aren't both of those things, neither of you get anything done. Between rounds of editing, I was looking at a minimum of six months before having anything that I (or we) could show people when working on a new project. That was just reality, and part of the reason that I haven't done any sustained writing in a number of years. It's like pushing a boulder up a hill, which isn't very appealing.
Last year, I started a
movie review blog
. I didn't do it to purposefully train myself for a situation like NaNoWriMo. My purpose was twofold. Firstly, I watch movies fairly regularly, and I was looking for a way to more thoughtfully interact with them. The biggest compliment that I can pay a filmmaker is thoughtful attention, and considered feedback. Just kicking back and looking at the pretty pictures and bright lights wasn't as fulfilling as you might think. Secondly, I do have a writing degree that's been collecting dust for a long time. I really enjoyed my time doing record reviews in college. I considered it an essential part of my training as a writer; at some point, you just need to sit down and crank out words, preferably in exchange for money and free CDs and concert tickets. I'm not as in touch with the local music scene these days, and didn't figure to reconnect with it in any meaningful way in the near future. Thus, movies. I don't have a big readership, and that's not really the point of it. The blog is a sort of movie-going diary, and I figure that public history of watching films will be more interesting to me as time goes on.
So, having said all of that, I've always wanted to see my name on the spine of a book. Always. I had tried to go through a NaNoWriMo two or three years ago, but I wasn't enamored with the story I was writing, and didn't get very far into it. Less than a week, to be sure. I don't even remember the experience, that's how little of an impact it made on me. This year, around late-September, an idea started bouncing around in my head. I thought that it might be enough for a longer story, but how long? I didn't know exactly. I saw some mention of NaNoWriMo in a forum somewhere (I can't remember exactly where), and it clicked. This idea had to stay in the oven until November 1st. I was going to go for it.
Here's the math: 30 days, 50k words. That's 1,667 words a day, on average. If you keep pace, that's supposed to end up being around a 175 page novel. Depending on where you're sitting, that either sounds like a piece of cake or an absurd, pie in the sky goal. Dessert metaphors are the best metaphors! I didn't have a good idea what those numbers really meant; college essays were measured in number of pages (infinitely cheatable pages, in my experience), and it's been so long since I've written record reviews that I couldn't really tell you how long any of them were. For a frame of reference, this review I wrote of "
The Rum Diary
" is a shade over 1k, so you need to write about 5/3rds of that on a daily basis to get to the finish line.
Now, there are people who finished the 50k goal in a couple of weeks, there are people who finish the month with over 100k words. There are people who brag about writing 10k words in a day. And that's fine. As for me, I finished a day early. There was only one day in the entire month where I wrote more than 2,500 words in a day, and that was yesterday. I skipped a couple of days entirely (I fought through a cold this month, and a frequently cramping back as well). For 25 of the 29 days, I sat down, wrote somewhere between 1,500 and 2,500 words, and called it a day. I wanted to avoid burning out; my goal was just to incrementally get myself to the finish line.
Everyone writes differently. For some people, those 10k sprees are just part of how they get work done. But what I found more valuable is the ability to sit down on a daily basis and get the work done. Anyone can rack up a huge word count for a day and then take three days off. What I found valuable (and rewarding) about NaNoWriMo is that it's helped me develop a little bit of discipline, turning a sporadic indulgence into a daily habit. That's the real value of the experience for me. I probably won't keep up a 2k a day pace, but it's no problem at this point to commit to producing 1k a day, between whatever fiction writing I do and the movie blog. This month proves without a doubt that adhering to a schedule over time yields results. This post itself is a shade over 1k words right now. That boulder doesn't feel so heavy anymore.
So yes, NaNoWriMo is a completely achievable goal. It just means that you're going to have to commit to setting aside an hour or two a day, come hell or high water. But you'll have a stack of pages to show for it on November 30th, and an ongoing writing habit beyond.
Obligatory celebratory video (and back to regular programming henceforth):
c.