While it's possible to create amazing, beautiful images with intaglio etching, it's also a very limited medium. By that, I mean that there are a only a handful of techniques – a very small toolbox with which to work. It's a brutal medium if your drawing skills aren't up to snuff, and one of the reasons for that is that you have only one flat line width to work with. Pen and ink drawings share a lot of similarities with etchings, but you can't do things like feathering or have swooping, calligraphic lines.
So when I started making prints myself, I had to try to find some point of reference to work from all of the cartoonists I've read over the years. Immediately, the nature of intaglio rules out a lot of the thick line brush cartoonists (like
Jeff Smith
or
Matt Wagner
, for instance). There's the
ligne claire
style, exemplified by
Herge's
"
Tintin
," but that's a very cartoony, open style. There are guys who make extensive use of stippling (like
Richard Corben
) or a tight, itchy sort of crosshatching (like
R. Crumb
). There's also the sort of flat, manga style, but I don't find that sort of work very compelling. All of those looks are achievable with line etchings.
In the mid-90's, cartoonist named Keith Giffen did a book called "Trencher" for Image Comics, and later published by Blackball Comics. Giffen is a pretty well-known writer and artists, drawing books like DC's "Ambush Bug" and writing the very popular "Lobo" books, as well as a metric buttload of hilarious Justice League books. "Trencher" was interesting for a few reasons – Giffen hadn't done a creator-owned book beforehand, and he employed a very unique art style. Prior to that, his work had been very inky, heavily influenced by the Argentinian cartoonist
Jose Munoz
.
All images are from Blackball Comics #1, written and drawn by Keith Giffen, colored by Lovern Kindzierski, with a cover date of March 1994. And of course, all images here are trademark and copyright Keith Giffen, used for educational purposes only (which is why there's only 5 pages of the 19-page story here).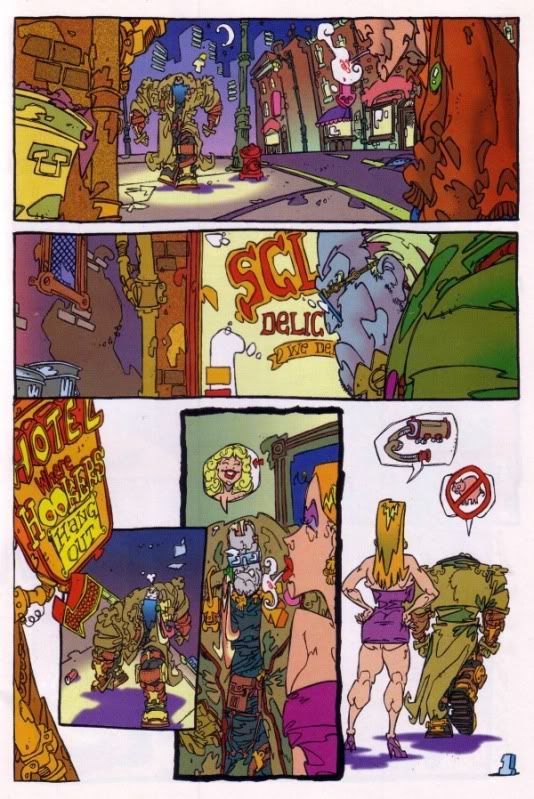 At the time (and even now), I hadn't seen anything like it. I wasn't sure that I liked it, and I'm still torn on that point. But I was fascinated with it visually – it stuck in my head.
"The funny thing is, when I ink, I do. TRENCHER I didn't pencil. I went straight to ink. I used Rapidographs. I never put a pencil line down on the paper, I just drew it. I just wanted to do real free-wheeling kind of artwork, you know? From head to paper as fast as possible."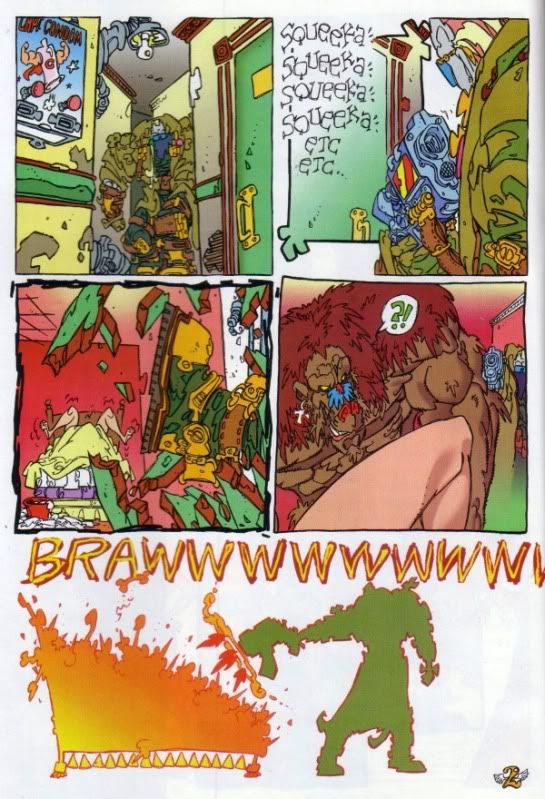 It's cartoony, like Herge's work, but also willfully grotesque and downright ugly. That's something that hadn't really been seen in mainstream work since the underground cartoonists of the 60's and 70's bubbled over.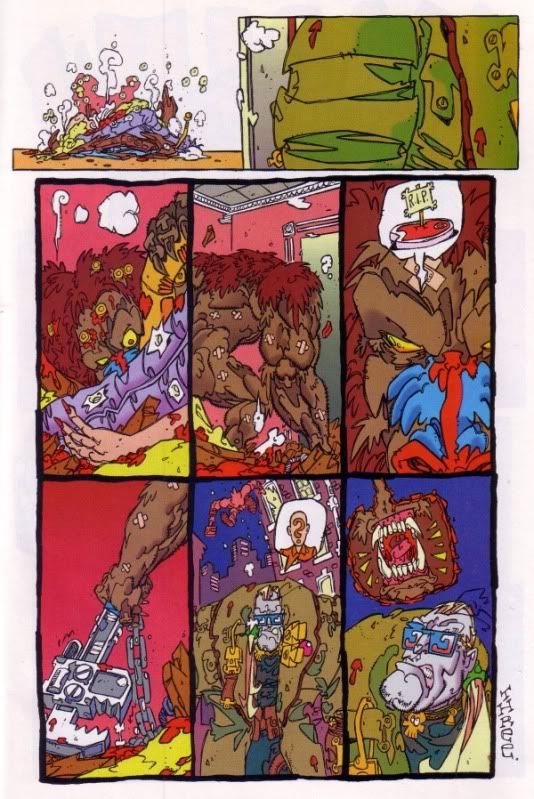 And while virtually all of cartooning to this point was based around linework, Giffen's work here has plenty of linework, but it seems to define patches of color rather than the more typical using of line and solid black areas to define light and dark areas. While Giffen's work would probably read more clearly if he'd used solid blacks to create a more chiaroscuro approach, there's not a single blackened area to be found.
In fact, I wish I could find some black and white scans of "Trencher" artwork – I'm sure it's damn near impossible to read without the color separating things. I think one of the things that struck me so strongly (and contributes to my love/hate relationship to this book) is that it seems as if Giffen is challenging the reader to bail out at every point. One of the central tenets of "good storytelling" in comics is being able to follow what's going on even without dialogue. And here, we've got a largely silent story (save for signage and sound effects), and the artwork is deliberately difficult to interpret.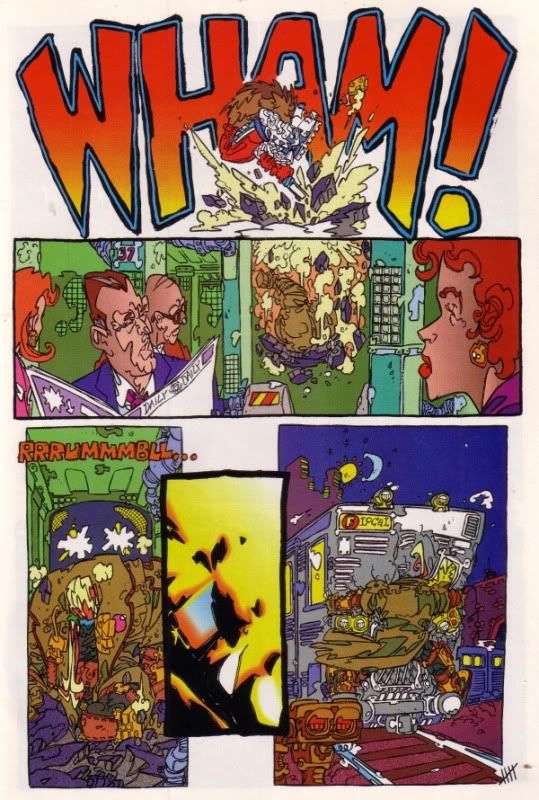 As a printmaker, I'm excited to see a new approach to linework, particularly one that I could conceivably apply to my own work. As an artist, I'm excited to see someone reach an extreme point, especially one that has found no followers. To be sure, other artists have pushed the idea of "extreme," but usually gilded with fanciful poses, and always with clarity. That's the visual storyteller's conceit, that above all else, the material must be easy to "read" (visually speaking, not in terms of enjoyability or any literary value). Here, Giffen seems to have reached a marriage between content and presentation; "Trencher" is an extended middle finger to the viewer. Keith Giffen is a skilled cartoonist and storyteller, and I believe it takes an extreme amount of skill to deliberately make a story that's basically a Bugs and Daffy cartoon with weapons make perfect sense, but only if you're willing to put the effort in to fight through the surface in the first place.
If you're curious to read more "Trencher," Image Comics published four issues, and Giffen also employed this art style in a three-issue arc of "Images of Shadowhawk," also by Image. There are a handful of Trencher appearances published by Blackball comics (including a Christmas special), but those are much harder to come by.
c.